Welcome to our Urban Tour Group website!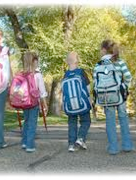 Urban Tour Group

is a volunteer organization dedicated to giving young people a sampling of the history, culture, architecture and resources of Portland, Oregon.
Welcome to our Urban Tour Group web site!
We offer FREE walking tours in downtown Portland for children in 3rd grade and older, however due to the coronavirus no in person tours are available. However, we are prepared to bring the tour to your classroom. See below.
Virtual Tours Coming in 2022
Beginning in late January, Urban Tour Group will be offering guided virtual tours of downtown Portland, either in-classroom (where allowed) or via Zoom. Beginning January 18th, you will be able to request a presentation for most dates until June 2. We will be sending out information to schools soon.
In addition, we have created 27 mini lessons you can use with your students. See the page heading in the menu on the right. Please enjoy these and share with others. Hope to see you soon.
This is a wonderful class trip where students will learn about the history, architecture and art of Portland. Our tours are a great way to actively introduce young people in the metro region to their history and urban environment.